FLOORING ADVICE
With such a vast amount of qualities, styles, colours and pile types available it's important to choose the right flooring for your needs. We pride ourselves in giving you the correct advice, with collectively having over 150 years experience between us!
Please see below some helpful tips. Alternatively, please call in to our large showroom and we will be happy to help you and make choosing a carpet a nicer experience.
THE OPTIONS
PILE FIBRE
Wool – Generally used for high-quality carpets, you'll pay more for natural materials, but you'll get a great looking floor covering that is made from sustainable fibre, is resilient and highly durable. It gets top marks for insulation, too – good for reducing heat loss and noise – and retains its appearance remarkably well. Wool also feels beautiful and soft underfoot!
Wool-mix – Some consider a mix of 80% wool, 20% man-made fibres (such as polyamide or polyester), as the best combination for an all-purpose carpet.
Polypropylene – This man-made carpet fibre is a popular choice, because it's hardwearing and resistant to stains. It can be cleaned using a part-bleached cleaning solution, although always check with the manufacturer or retailer first. However, Polypropylene is flammable and not self-extinguishing.
Polyamide (also known as nylon) – Available in a wider range of hues and vibrant clear colours that can't be reproduced in wool. A good all-rounder for family homes, good-quality polyamide or nylon carpets come with built-in stain-resistant treatments and score high marks for wearability.
Polyester – Often used for textured or shag carpets. Polyester is most like wool in appearance and feel, and is remarkably soft, durable and stain resistant. Most often used as a blend, rather than on its own.
PILE TYPES
Woven or tufted?
There are two types of carpet most commonly sold in the UK: tufted and woven carpets.
Woven carpets, such as Axminsters and Wiltons, are made using traditional loomed methods, and are labour intensive. You'll get a premium finish, but these carpets, widely regarded as the top-end choice.
Tufted is the most popular carpet type today and is made by a row of needles punching the pile yarn into a base material. It's easier to manufacture, and can be made using all types of yarns with a variety of finishes. Tufted carpet can be looped or cut (or both).
Woven
Axminster – Made a bit like an oriental rug, with fibres woven in and out through the surface backing on an Axminster machine. Axminster carpets are known for their rather grand, intricately patterned designs, quality and durability.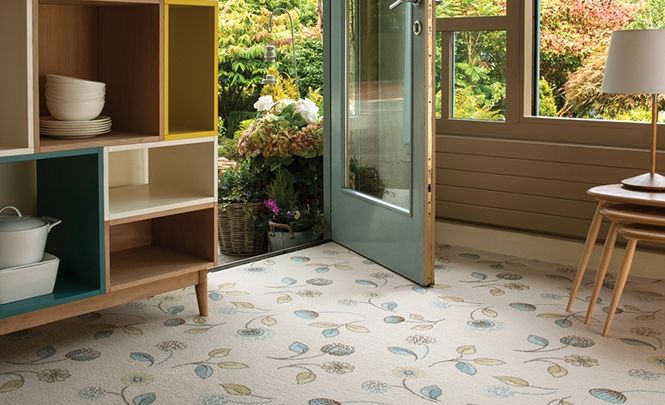 Ulster Boho Collection carpet (Axminster)
Wilton – Another luxury, quality carpet, it derives its name from the type of loom used, which weaves the yarn in a continuous strand. Available in a wide range of patterns, Wilton carpets have a smooth, velvety, woven surface.
Twist – Hardwearing carpets with yarn which has been twisted tightly together, creating a one-way pile direction. Twist carpets are the most popular type of carpet currently being produced and come in plain colour or in a combination of complimentary shades to create a 'heather' look, which helps hide build-up of dust or animal hairs. It's also a good choice for places where tread always wears, such as hallways and stairs.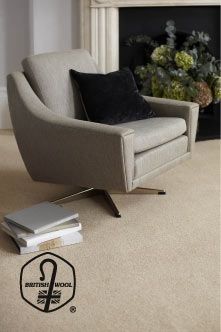 Cormar Home Counties Heather carpet (Twist)
Berber or looped pile – A Berber or looped pile carpet is made from uncut continuous loops on the surface and has a distinctive knot appearance. Carpet can be looped, with a low-profile pile construction, which is known for maintaining its appearance, or have loops of different heights to form a textured pile. For a busy room, choose a Berber with smaller or tighter loops, which easily bounce back and decrease the chance of loops crushing and matting with wear and tear. A good all-rounder, however, not a great choice if you have pets, particularly cats, as they may pull up the loops with their claws.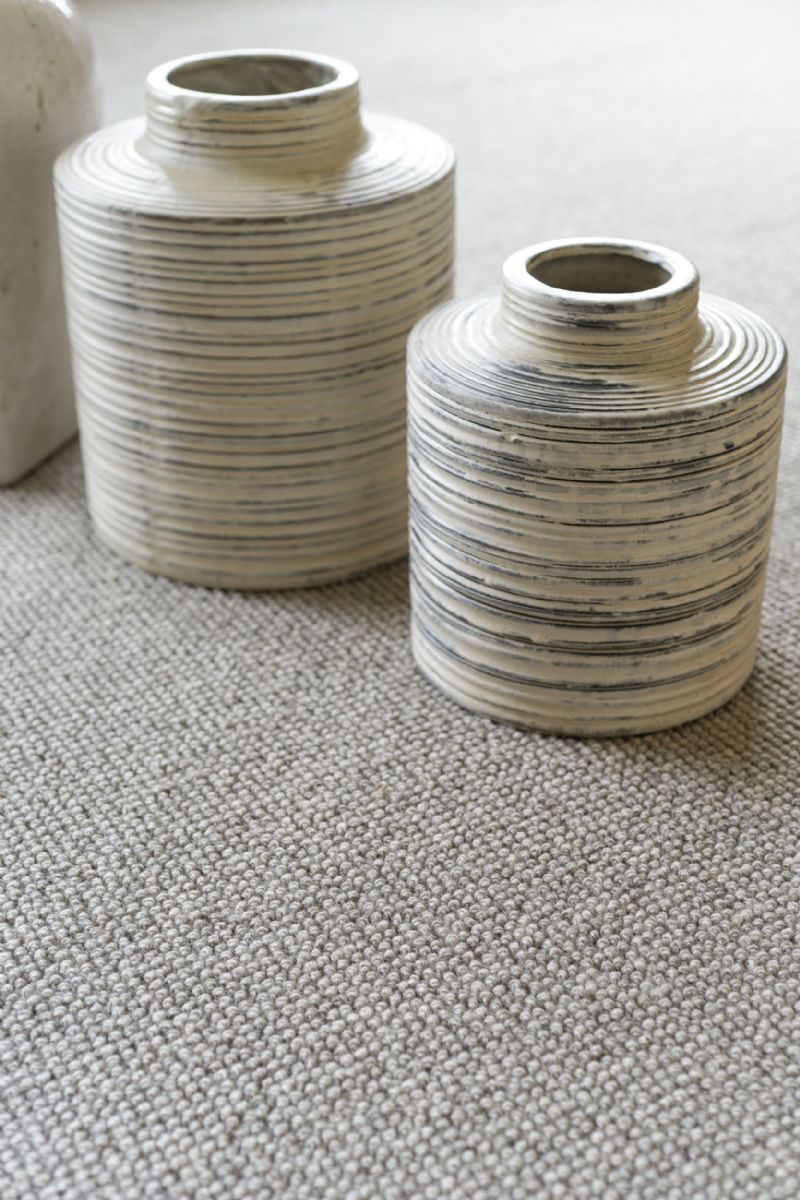 Brockway Beachcomber carpet (Loop)
Flatweave – A good choice for stair runners, flatweave is created by interlocking warp (vertical) and weft (horizontal) threads. Although it's looped, it gives the impression of being completely flat and feels firm underfoot.
Saxony – A deep-pile carpet that is popular for bedrooms, it has a cut pile with long tufts giving it a gentle, soft feeling underfoot and a luxurious look. Its long pile makes it easy to flatten, however, so wardrobe and cupboard feet marks won't necessarily spring back as you might wish.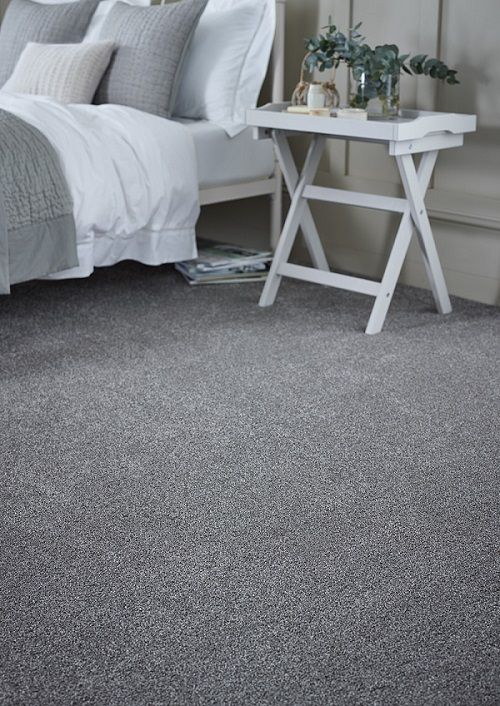 Cormar Sensations Original carpet (Saxony)
Shag – An opulent, luxurious deep shag pile. It has extra long tufts to give it its super shaggy look. Not ideal for areas with high-traffic, but a fantastic choice for a warm, gentle way to wake-up when you first step out of bed in the morning!
Velvet – A short, dense pile and a good choice for a luxurious floor covering in a bedroom, velvet pile has a smooth, cut pile finish and is usually available in solid colours.
THINGS TO CONSIDER
UNDERLAY
As well as working as a shock absorber, adding cushioning and comfort underfoot, a good underlay helps keep in heat and could help reduce your energy bills. Invest in a good underlay, if you can, whatever the budget for your carpet. A heavy-duty one will extend the life of your carpet and may even outlast it. Underlay helps a new carpet to sit properly and wear evenly. It reduces pile compression and enables a carpet to keep its appearance for longer.
Look out for an underlay with good acoustic qualities for areas with heavy footfall, particularly if you have teenagers living in the house!
Underlays come with a tog rating – the higher the tog, the better the insulation. If using underlay with underfloor heating, you won't need anything above a total rating of 2.5 tog.
Rubber
Waffle – Takes its name from the bubble pattern on the underside of the underlay. It can squash in areas of high-traffic, and is best for rooms that are less well used, such as a spare bedroom.
Flat – More compact and hard-wearing, to provide an even higher level of support and noise reduction.
Crumb – Made from recycled used car tyres, which are granulated into rubber particles. These are bonded together to create a highly durable, firm underlay suitable for any room with high traffic. It's also worth using in a room with heavy furniture to avoid those annoying indentations.
Crumb/felt – Made from a combination of rubber and felt, this style is less common than rubber waffle, but is a hardy underlay most often used for woven carpets to minimise rucking.
Foam
Polyethylene (PE) -– An entry-level, budget underlay made from closed-cell polyethylene foam.
Polyurethane (PU) – A form that is 80% recycled, made from granulated foam that is compressed and thermally bonded together, it's very widely used and suitable for most carpets.
Jute – With a felt or rubber top, this natural fibre doesn't flatten, crumble or dry out.
Recycled felt – A greener option, but will compact more easily and is best used for rooms that see less use, like a study or spare room. Good heat insulation makes this a great choice for concrete flooring.
Felt and rubber – The best of both worlds, these create an underlay that is comfortable underfoot but has the firm support of rubber for high traffic areas.